Austin is an average American city in Texas, where cowboy boots and BBQ restaurants can be found on every corner. But every year in march, Austin goes through an extreme makeover and becomes a festival by the name of South by Southwest (SXSW).
Sabine Storm from the malmø based digital design studio ustwo is giving Jardenberg a recap of what has been trending at this year's South by Southwest Interactive. 
[note]Ett "redaktörens" tack till Sabine för en fin rapport från härliga SXSW. Vill du också gästblogga på jardenberg.se? Hör av dig![/note]
South by Southwest has three main areas: Music, Interactive and Film. Besides keynote speakers and concerts there is a large exhibition showcasing the latest digital trends, a game expo, several start up competitions and workshops to participate in. The typical SXSW attendee is a mix between a japaneese cyber geek with hair that could have been printed in 3d and cool people that could easily be identified as bloggers, startup's or european dj's.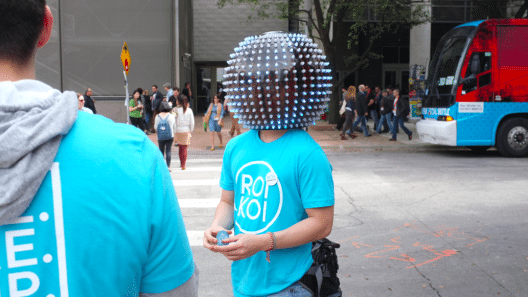 At night SXSW continues into what for some is the most important part of the festival, the nightlife, where the popular sport called networking is taking place. Dropbox, Facebook, Mashable, Indiegogo, Spotify and VICE are just some of the companies who has raised a tent somewhere downtown and is hosting parties with free bars and famous people like Snoop Dog, Lady Gaga or even Grumpy Cat on the guest list.
The festival badge is a bit more advanced then most festival bracelets, it has a QR code with all your personal details like age and email, that you can trade off in order to get free merchandise.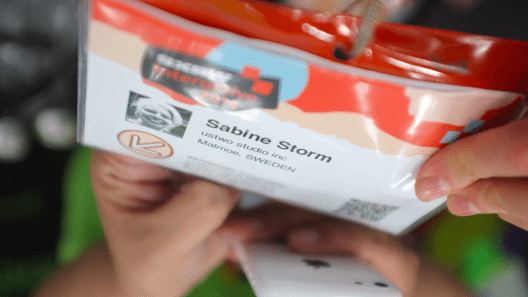 South by Southwest Interactive
The trending topics this year was: wearables – technology you wear, like Nike fuel band that measures your steps, creative work methods – companies like IDEO and Frog discussing how they work and another big topic was privacy and activism online.
In a Skype call with 3500 in the SXSW audience and Julian Assange, Wikileaks founder, from Equador's embassy in London, Julian discussed how online activism has changed as the possibilities for expression has changed online, and how the internet should have been a tool for freedom, but has ended up being an aggressive form of surveillance. The Skype call with Assange himself did not reveal much new information, rather a certain amount of acknowledgement to Assanges work being presented at one of the largest interactive festival in the world.
The next speaker was Edward Snowden, who called to an audience by the same size, via Google Hangout.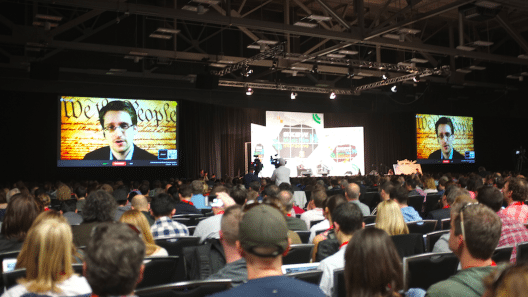 It was a kept secret from which location he was calling from, but the rumors said Russia. Snowden discussed how everyone has a right to not be surveilled, and that we now live in an environment where the users no longer pay for digital products, they are the product. Snowden said that right now it is very easy for NSA to continue their online surveillance, as many services does not encrypt the users personal information very well. There might be a market for services that respects the users privacy.
An unexpected speaker at SXSW interactive was Kevin Bacon. Yes – the dancing actor from the 80'ies movie Footloose. Bacon showcased his social charity concept 6degrees.com. The idea behind this service was routed in The Bacon number, a concept invented by 3 college students in the 90'ies. The Bacon number is the number of connections between any actor and Kevin Bacon. At the time Kevin Bacon thought it was a joke. Later the Bacon number has become so well known so that it is a google search too, and now Kevin Bacon himself is using his connections to raise money for any good cause via 6degrees.com

One of the more unusual concept was 23&me, an organisation from 2006, founded by Anne Wojcicki. The concept is simple, you pay 99 dollars, a kit is sent to you, in which you create a spit sample – and then send it back to 23&me. Based on the spit sample you will receive a complete DNA report. Before 23&me Wojcicki observed that medical companies in particular, earns a lot of money on sick people, and that almost no businesses is created on pro activeness or healthy people. So Wojcicki founded 24&me. Out of any persons DNA is a lot of hidden knowledge on what deceases you are in the risk of getting. Anne Wojcicki was asked if 23&me could be trusted to not sell the genetic information to interested companies, and she replied that this is why the fee is rather high, the customer is not the product.
The Interactive EXPO
The Interactive EXPO has a reputation of being where the future is having its release party. At glance it seemed more like an amusement park for clueless companies. Many of the exhibited products circled around well-known areas like social gaming, social marketing, wearables or social music services. In general the EXPO lacked innovation, surprise and products with a clear use case. A closer look did however revel a few good ideas and observations on trends, and here are some of them:
Zensorium is a digital service that works together with a small handheld device called Tinke. You place your thumb on Tinke, wait 30 seconds, and then you will receive your fitness condition and guidelines on whether or not you are in a good or a bad shape. The purpose was clear, and worked very well, though the design of the device in itself could have been a bit more thought through.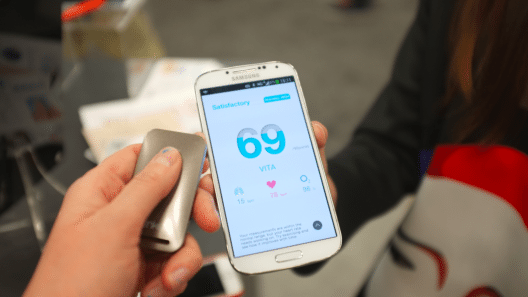 A few countries was represented at the EXPO as well, and the Japanese area was where the fun was happening. Calvin from Hakuhodo i-studio showed me a couple of their products. A treadmill attached to an animated solar system, so when you run you also run through planets, as a fun way to stay fit. Another of their projects was Kitchen DJ, where sound effects is played while you cut any fruit.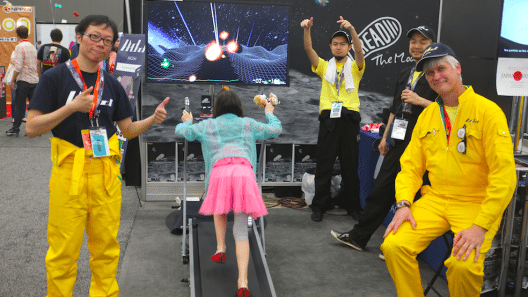 The Japanese robot was a quite sensational feature on the EXPO, a big suit you could put on to extend your motions and strengths. Kind of like a reallife avatar experience.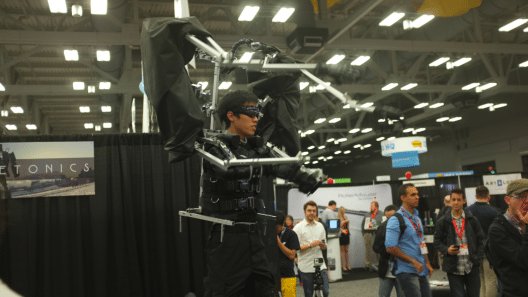 SXSW also had a lot of Google Glass 'inspired' concepts, for example a pair from Epiphany Eyewear, which could capture images and video.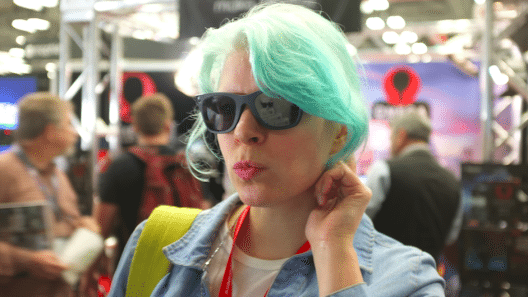 Another trend at the exhibition was small battery driven speakers to your mobile phone, from Jabra among others, as well as small batteries to charge your phone when on a festival or in another context where charging is not an option.
A bit coin ATM was also to be found at the SXSW EXPO.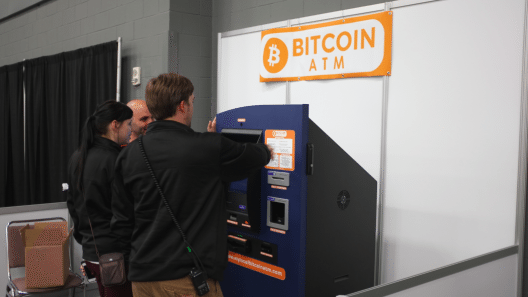 Lifeloggers at SXSW
In the streets a lot of people was wearing Google Glasses, Raheem was one of the, he explained that he is a 'Life Logger' a person who logs their entire life. There are a lot of life loggers who uses smart wrist bands to count their steps for example, with a healthy life in mind. Raheem says the community of life loggers, don't necessarily share their life , that is not the point. They log and maybe uses the data later. Raheem and his friends are experimenting with making their own apps for the Glasses and they are looking into how to use the insight about them self in new ways. For example Raheem says – I know what I ate my entire life.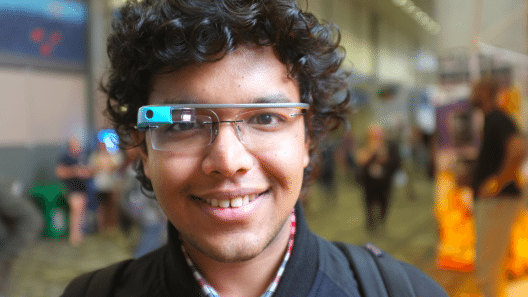 South by Southwest nightlife
Many of the parties at SXSW are a way for companies to get attention, with large budgets to impress the guests with interactive installations like projected games or interactive dance floors.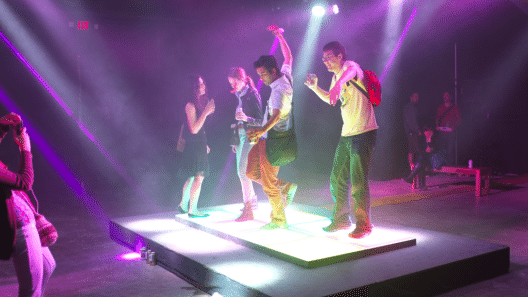 The secret behind successful networking
Many people attend South by Southwest, not only too experience the famous speakers who are changing the world around us nor to see the latest devices at the EXPO, but to network and meet peers in the industry. And everywhere Marcus(ustwo) would not be left alone because of his amazing jacket with colored dots, everyone wanted to talk to him.
So if you planning on going next year, do not only bring your business cards, but consider wearing clothes that will give you some positive attention too.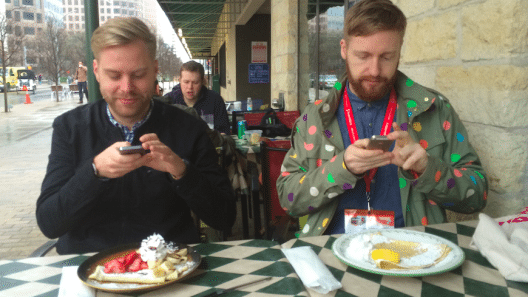 Checking out
South by southwest is a bit like a google search when its best, you get into the extreme of any given subject, and in a way it is all connected.